Spring is arriving: let's sort out that garden!
Spring is fast approaching and we're sure that many of you can't wait to get your green fingers to work once again. When this season swings around there are a few steps you may want to follow before potting and planting your favourite flowers. Before getting stuck into gardening, you might want to consider taking a look around your local garden centre for inspiration. At Court Farm, we're certainly excited about what this brand new season has to offer, which is why our early springtime deals are now underway.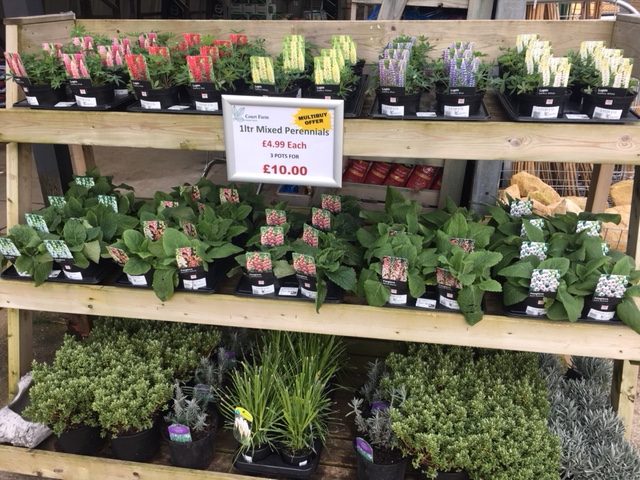 Prepare your garden
Clear up your borders and flower beds – remove any dead leaves, small stones, weeds and any other debris from these areas. Turn the soil and add organic matter such as manure or compost and fill the borders and beds, ready for sowing seeds later on.
Order your favourites – around springtime, many garden centres have special deals on to suit their garden loving customers. At Court Farm, we have a wonderful supply of potted bulbs, perennials, shrubs and trees. Find out more about our early season deals by paying us a visit – there's a variety of products to choose from including compost and pots too!
Remove garden pests – you may find that pests have made a home in your garden over winter. It's important to spray pest repellent or pesticides before planting or sowing seeds because, otherwise, it's very likely that pests will feed off these and destroy your hard work.
You may want to consider making environmentally friendly homemade sprays to kill or deter these pests. Hot pepper spray: pour 1 pint of water, a drop of castile soap and a tablespoon of cayenne pepper into a spray bottle. This will not affect the plant but to ensure that you've used the right amount of each part, test on a single leaf to get a good indication. If nothing occurs, spray away, but if you notice it wilt then dilute your mixture.
Spring clean your greenhouse – give your greenhouse a thorough wash, remove old trays and cuttings. Sweep the floor to clean away any debris and disinfect the glass both inside and out. This will remove any diseases from the winter and lingering bugs/pests that might otherwise eat your fresh new plants. Give your greenhouse a good spray down and ensure all pots and seed trays you will be reusing are clean. This will prevent your plants from catching infections. Allow your greenhouse to ventilate and dry completely before starting on your new spring selection.
Plant and sow your favourites – you can start sowing seeds in January and February. Make sure if you're planting bulbs, you dig a deep hole in the soil with a trowel, cover and water thoroughly. When scattering seeds, be sure to add a good, rich soil on top, along with a generous watering, to encourage steady germination.  
Install water butts – these are an ideal way of collecting springtime rainfall, creating an environmentally friendly water source for your garden.
Take Advantage of Court Farm's Early Spring Offers!
Remember to treat yourself!
Why not come and see our selection of 'getting kitted' garden wares including gloves, wellies, bags, and brooms. Once you're sorted and ready to take on your garden, treat yourself and enjoy a nice tea or coffee and indulge with some of our homemade treats here at the Court Farm Garden Centre Cafe.
Our springtime bargains:
> Perennial multi buys £10 for 3
> Gardman bird seed sack £9.99
> Gardman fat ball bucket £7.99
> 4" 1 Lawn care sacks £19.99
> Great deals on our new house plant and bonsai selection
Court Farm Garden Centre have over 40 years of experience within the industry and we take great pride in our experience and what we have to offer. Whatever it is you're looking for, feel free to get in touch or pop on by to your local garden centre and see what we can do for you. Based in Surrey we extend our garden services throughout a number of locations including: Wimbledon, Epsom, Surbiton, New Malden, Worcester Park, Esher, Teddington, Richmond, Kingston, Wallington, Banstead and Kingswood.