13 of The Best Garden Paintings By Famous Artists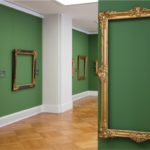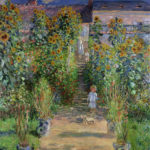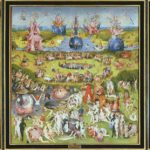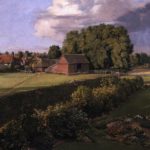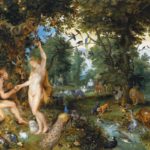 This month Court Farm are here to discuss the 13 top garden paintings by famous artists from Monet to Matisse and many more. So if you're a lover of gardens and art and enjoy all artwork from the most classical to contemporary paintings, read on…
Claude Monet – The Artist's Garden at Vétheuil (1880)
French painter, Monet, was one of the founders of the French Impressionist movement and regarded as the most creative practitioners of his time who was able to express nature in a beautiful, alternative way. Monet's mission was to capture and document the French countryside throughout the seasons, particularly observing the change in light, changing the mood of each painting ever so subtly. That said, by the 1880s, Monet became more interested by the painted surface rather than the light exposure from the change in seasons, and took great care with his choice of brushstrokes and textures of heavily layered paints.

The Artist's Garden at Vétheuil is a painting of Monet's son in the garden. Behind the boy you can see other members of the family, with their home positioned in the foreground. Decorating the sides of the painting are large sunflowers and various pops of colour, depicting bluebells and plums amongst a vast sea of greenery. The high horizon on this painting draws the eye into the centre of the canvas and back out again to admire the technicalities of the actual paintwork and colour choices.
Hieronymus Bosch – Garden of Earthly Delights. (1503-1515)
Dutch painter, Bosch, well known for his religious concepts and narrative painting collection depicting human's greatest desires and fears. One painting in particular, Garden of Earthly Delights, is hugely energetic, with countless stories unfolding before our eyes. Bosche's busy artwork is renowned for displaying surreal temptations that we succumb to on this earth. If you haven't seen this painting, Google it, you might just like the bizarre nature of this piece.
J. E. H. MacDonald – The Tangled Garden. (1916)
Canadian artist, J.E.H. MacDonald, was one of the founders of 'Group of Seven' who brought about the Canadian national art movement. He specifically enjoyed painting landscapes and in 1916, created The Tangled Garden – a beautiful interpretation for the cycle of life, death and birth – it depicts a decadent garden full of flowers, half flourishing and half decaying.
Gustave Caillebotte – Dahlias: Garden at Petit-Gennevilliers. (1893)
French painter, Gustave Caillebotte, was interested in capturing exactly what he saw and created still-life paintings. In Garden at Petit-Gennevilliers, flowers cascade across the canvas and their naturalistic colour palette remains in keeping with Caillebotte's desire to capture realism.
Joaquin Sorolla y Bastida – Siesta in The Garden (1893)
Spanish painter, Joaquin Sorolla y Bastida, mainly painted portraits and landscapes that focused on social and historical messages. Bastida had a sad childhood, his parents both died when he was very young but his artistic talents shone through at the age of eighteen. Hee moved to Madrid to study in Museo del Prado – a national art museum. Bastida's Siesta in The Garden painting is of two young children, sitting in a lush green garden in the middle of summer. The dappled light resting on the scene creates a realistic look, making the viewer feel both the heat of the sun and the respite of the cool shade.
Pierre-Auguste Renoir – Women In a Garden (1873)
French painter, Pierre-Auguste Renoir, led the development of Impressionism and found great beauty in women. Women In a Garden displays two small figures standing in a sea of flowers and shrubbery, with a lack of a horizon, this painting makes the viewer feel encapsulated and captivated by the sheer surroundings.
Van Gogh – Daubigny's Garden / Garden in Full Bloom (1890)
Dutch painter, Van Gogh, was a post-impressionist who created over 2,000 paintings – a large percentage of which were oil paintings. He most commonly painted still life, self-portraits and landscapes. Van Gogh admired Charles-François Daubigny for his inspiring work and visited Charles-François' home, where he painted Garden in Full Bloom. Van Gogh painted his garden three times, starting with a small section of the garden and then captured the whole on double-square canvas to complete his inspiration.
Gustav Klimt – Bauerngarten mit Sonnenblumen / Country Garden with Sunflowers (1906)
Austrian symbolist painter Gustav Klimt, was well known for his mural sketches and was influenced by Japanese art. His painting Country Garden with Sunflowers was inspired by his favoured holiday getaway in Villa Oleander by Lake Attersee where there's a thin strip of land where sunflowers would grow. In this painting we only see an up-close snippet of the landscape but from the character of the painting, you can envisage the slope running alongside the lake.
John Constable –Golding Constable's Flower Garden (1815)
English painter, John Constable, was a naturalistic landscape artist. His painting, Golding Constable's Flower Garden, portrays a large garden in Suffolk that belonged to his father – hence the name. This very detailed painting expresses long evening shadows, casting long shadows, which dull the vibrant borders of flowers his mother had planted. At the time of this painting, John Constable's parents had passed and this could be the reason for such heavy clouds and mournful shadows, covering the once, colourful garden.
Jean-Honoré Fragonard – Les Hasards Heureux De L'escarpolette / The Swing, (1767)
French painter, Jean-Honoré Fragonard, produced over 500 complete paintings in his lifetime, focusing mainly on genre paintings. The Swing is one of his most famous pieces of artwork and this image features a young woman dressed in a silky pink dress, sat on a swing, mid-air, swinging between her husband sat amongst the dark shade of the trees and a young lover in the light of the foreground. The surroundings are thick with flowers and trees, which seems to the viewer that they are on private land and secluded from the rest of the world.
Paul Cézanne – The Garden at Les Lauves, (1906)
French artist, Paul Cézanne, was a post-impressionist, well known for his recognisable brushstrokes and complex planes of colour. Cézanne has been recognised as the artist who bridged the gap between Impressionism and Cubism. His artwork, The Garden at Les Lauves, is comprised of structural blocks of colour which we expect to see in artwork that features buildings but not in natural landscapes, but provides the viewer with a refreshing juxtaposition. The Garden at Les Lauves provides the viewer with more depth than just what can be seen on the surface.
Thomas Cole –Expulsion from the Garden of Eden, (1828)
English-born American painter, Thomas Cole, was famous for his romantic landscapes and historical artwork. In his work Expulsion from the Garden of Eden, the image explores the story of Adam and Eve after their expulsion. What's more interesting is that Cole has focused on the degradation of landscape, rather than the remorse in both figures. Using this technique, the viewer can immediately see the contrast between paradise and the dark, unpleasant alternative that Adam and Eve now have to face.
Jan Brueghel the Elder and Peter Paul Rubens – The Garden of Eden with the Fall of Man, (1617)
Flemish painters, Jan Brueghel and Peter Paul Rubens, were famous for their emphasised style, colours and sensuality which lead them to create dramatic portraits, landscapes, altarpieces and more. However, their painting The Garden of Eden with the Fall of Man, in particular, displays the figures of Adam and Eve under the tree of knowledge. They are both surrounded by birds, lions, horses, cattle, etc but our eyes are drawn to Eve who is picking the fruit and then to the snake who is watching her. This painting is incredibly moving, Eve seems in somewhat of a trance and she stares into Adam's eyes as she chooses sin, hence the title, 'the fall of man'.
Emil Nolde – Flower Garden, (1908)
German-Danish painter, Emil Nolde, was an Expressionist who created one of the first oil and watercolour paintings in the early 20th century. His work can be recognised with ease, with a keen eye for golden yellows and deep reds, his intense colour palette evokes emotional responses and interpretations. A classic Emil Nolde painting, Flower Garden, reflects this with the use of rich colours confidently decorating the foreground.


If you're inspired by 
landscapes
 and flowers too, feel free to visit Court Farm Garden Centre. We have a vast range of 
plants
, trees and shrubs to choose from, as well as decking and 
garden furniture
. If you'd like help or advice, simply 
contact us
 online or call our team of professionals who are more than happy to help. We're located on Old Kingston Road, in Worcester Park, Surrey – if you find yourself nearby, pop in and see what we have to offer!